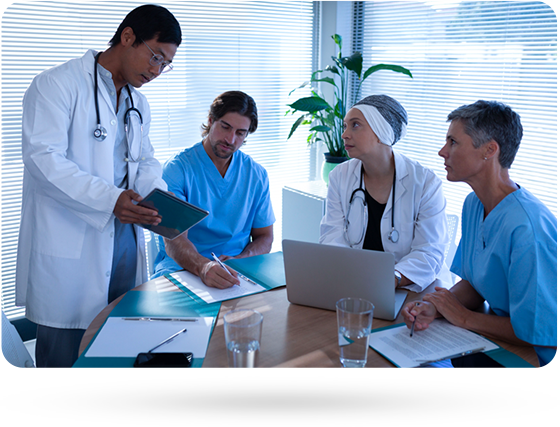 Modern healthcare is moving increasingly towards personalised medicine and treatment plans. Patients and healthcare practitioners are increasingly seeking deeper analysis to determine which treatment may be best.
CG Genomics Oncology can assist your healthcare practice or clinic implement a ready-to-go solution to make genomic testing a part of your service provision. We can also provide the expertise of doctors, pathologists and customer liaisons to guide you through the process and establish genomic testing as a service for your healthcare practice or testing clinic.
Please contact us to discuss how we may be able to assist you and your patients.
GENOMICS TESTING
SOLUTIONS
Testing packages for your oncology practice or testing clinic to bring genomic testing for cancer to you patients:
1
INITIAL SCREENING –
BASIC
Oncomine Focus
Transcriptome
Pharmacogenomics
2
INITIAL SCREENING –
DEEP DIVE
Oncomine Focus
Transcriptome
Pharmacogenomics
TCR B Long Range
Microbiome
cfDNA for track & trace
3
POST TREATMENT
RESULTS ANALYSIS
TCR B Long Range
cfDNA for track and trace
4
ONGOING
MONITORING
TCR B Long Range
cfDNA for track and trace
Please refer to our cancer testing descriptions on our Genomic Testing for Cancer page, or contact us directly for further information on the application of these test packages.
Our Industry Advisory Services
ConnectGene care can be engaged in a number of ways to advise healthcare practitioners and companies on developing cancer treatments and the application of genomic testing. As a specialist practice, our goal is to provide you with professional, comprehensive and timely services.
We can help you with:

Patient
Referrals
If standard treatment protocols are not achieving the outcome desired, a referral to ConnectGene for a second opinion may assist in finding alternative treatments. In full consultation with you as the referring doctor, we can assess the need to utilise genomic testing to further understand your patient's condition and pathways for treatment.
Advice for
Medical
Practitioners
ConnectGene can be engaged to advise you and your medical practice on developments in the treatment of cancer and the application of genomic testing, to help ensure the best possible outcomes for your patients. This may be patient specific, or general training for the healthcare practitioners in your clinic.
Consulting Services for Bio-Tech & Healthcare Companies
We research and monitor global developments in the treatment of cancer, including the impact of genomic testing on patient outcomes and treatment selection. We can provide advice on the latest developments in cancer research and clinical trials, so you can understand and integrate them into your treatment protocols.
Conference
& Training
Seminars
Since 2000 Dr Copeman has lectured on new cancer medicines in 90 cities, across 30 countries around the world, providing advice about the development of new medicines to many of the world's major pharmaceutical companies.